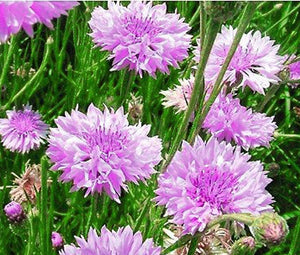 Cornflower Mauve Seeds - Centaurea Cyanus
Cornflower Mauve Centaurea Cyanus is a popular, hardy annual flowering plant. Started from Cornflower seeds this attractive annual flower is also known as Bachelor's Button, and this variety produces absolutely beautiful, fully double, mauve flowers on a top of silvery foliage. Mauve Cornflower blooms for weeks creating a breathtaking display and attracting butterflies and bees. 

Cornflower Mauve is an excellent border and bedding or mass planting plant for meadow gardens and naturalized areas. Centaurea Cyanus seeds can be started indoors or outdoors, and Cornflower likes to grow in full sun requiring little maintenance and tolerating poor, dry soil, including sand or clay. Bachelor' Button flower is a cutting garden favorite that makes a superb cut flower for both fresh and dried floral arrangements.
PLANT PROFILE
Season: Annual 
Height: 32 Inches 
Bloom Season: Spring/Summer/Fall
Environment: Sun/Partial Shade 
Soil Type: Average/Poor/Dry/Moist, pH 6.6-7.8
USDA Zones: All Regions of North America
PLANTING INSTRUCTIONS
Sow Indoors: Winter/Spring (4-6 weeks before last frost)
Sow Outdoors: Spring/Fall (In mild climates) 
Seed Depth: 1/4 Inch 
Germination Time: 14-20 Days