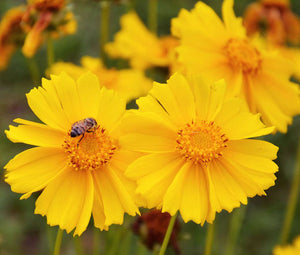 Coreopsis Lanceleaf Dwarf Seeds - Coreopsis Lanceolata
Coreopsis Lanceleaf Dwarf Coreopsis Lanceolata is a compact perennial native to North America. Dwarf Lanceleaf Coreopsis seeds can be started outdoors in spring or fall, and also known as Lanceleaf Tickseed, Tickseed Coreopsis or Sand Coreopsis this dwarf variety grows only 12-18 inches tall producing gorgeous, daisy-like, bright-yellow flowers on a top of lush, attractive foliage. The bloom period is all summer long long, and the showy flowers are irresistible to butterflies. 

Coreopsis Lanceleaf Dwarf is a reliable perennial for group or mass plantings, flower beds, foundations, borders, naturalized areas, rock gardens and containers. Coreopsis Lanceolata seeds have to be covered with soil but just barely, and this perennial Coreopsis grows best in full sun adapting easily to poor, dry soils in hot, humid climate. Coreopsis Lanceleaf is a superb cut flower.
PLANT PROFILE
Season: Perennial 
Height: 12-18 Inches 
Bloom Season: Summer/Fall
Environment: Sun
Soil Type: Average/Poor/Dry/Medium, well-drained, pH 5.8-6.8
USDA Zones: 3-10
PLANTING INSTRUCTIONS 
Sow Indoors: Winter/Spring (6-8 weeks before last frost) 
Sow Outdoors: Spring/Fall 
Seed Depth: 1/16 inch 
Germination Time: 21-28 Days