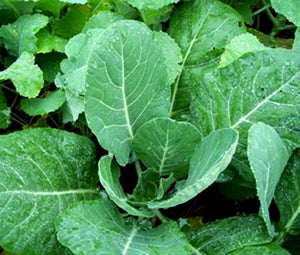 Collards Vates Non GMO Seeds - Brassica Oleracea
Collards Vates Brassica Oleracea is an open pollinated, 2 feet tall plant that produces loose clusters of blue-green, slightly crumpled, juicy leaves. For a spring harvest Collards Vates seeds can be sown directly outdoors 2 weeks before the last frost. The seeds can be sown in summer for a fall harvest. The plants have to be spaced 12-18 inches apart. 

Collards Vates is the non-heading plant that has a mild, cabbage-like flavor which can be improved by a slight freeze. This Collard plant is bolt and frost resistant.
SEED GERMINATION: 7-14 Days

PLANT MATURITY: 75 Days