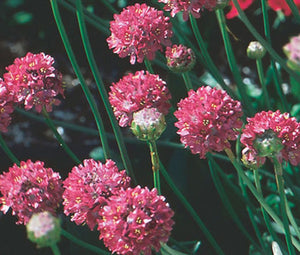 Armeria Joystick Mix Seeds - Armeria Maritima
Armeria Joystick Mix Armeria Maritima is a compact, evergreen perennial. Also commonly called Sea Thrift, Sea Pink, and Common Thrift, Armeria can be established from seeds. Sea Thrift has rich-green, grassy foliage with strong flower stems and produces large clusters of white, red, bright-pink or lilac flowers. Armeria Joystick begins to bloom in mid-spring and blooms until mid-summer producing fragrant flowers that attract bees, butterflies and hummingbirds. 

Armeria Sea Pink is an excellent plant for rock gardens, borders, edging, containers, pots, and Common Thrift makes a superb ground cover. Armeria Maritima grows best in full sun tolerating drought, and sandy loam soil with good drainage is preferable for the best performance. Armeria flowers are good for cutting, and they are equally good as fresh cut flowers with a long vase life or as dried flowers.
PLANT PROFILE
Season: Perennial 
Height: 6 Inches 
Bloom Season: Spring/Summer 
Environment: Sun/Partial Sun
Soil Type: Moist well-drained, pH 5.8-6.8
USDA Zones: 3-8
PLANTING INSTRUCTIONS
Sow Indoors: Winter/Spring (6-8 weeks before last frost) 
Sow Outdoors: Spring 
Seed Depth: Surface sowing
Germination Time: 21-28 Days