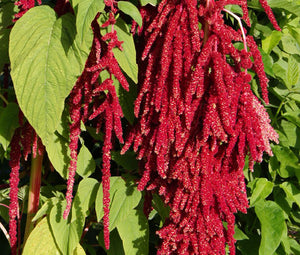 Amaranthus Love Lies Bleeding Red Seeds - Amaranthus Caudatus
Amaranthus Love Lies Bleeding Red Amaranthus Caudatus is a spectacular, bushy, half-hardy annual native to India, Africa and Peru. Also called Tassel Flower, this old-fashioned, favorite garden annual can be easily established from Amaranthus seeds. Love Lies Bleeding is one of the most unusual garden flowers, and this plant gets the common name from its fascinating, small, crimson or purple, petalless blooms that appear in cascading tassels.
Amaranthus Caudatus features  foliage with medium green, almost tropical-looking leaves that turn bronze during the season. Amaranthus is used in cottage gardens, borders, containers, and pots. The botanical name of Amaranthus comes from the Greek word for unfading, and Love Lies Bleeding is a long lasting fresh cut flower that retains its color for a considerable time and can be used for dried floral arrangements.
PLANT PROFILE
Season: Annual 
Height: 36-60 Inches 
Bloom Season: Summer/Fall
Environment: Sun
Soil Type: Moist well-drained, pH 6.1-6.5
USDA Zones: All Regions of North America
PLANTING INSTRUCTIONS
Sow Indoors: Winter (6-8 weeks before last frost) 
Sow Outdoors: Spring
Seed Depth: Surface sowing - press seeds slightly into the soil 
Germination Time: 7-14 Days