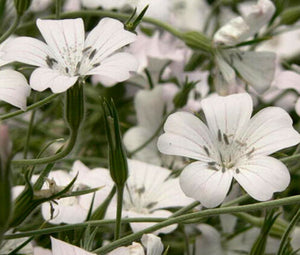 Agrostemma White Seeds - Agrostemma Githago Bianca
Agrostemma White Agrostemma Githago Bianca is an annual native to Mediterranean region, and White Agrostemma can be easily grown from seeds.  Also called Corn Cockle, this Agrostemma has tall slender hairy stems with long, narrow leaves and produces large 1.5 inch in diameter, satiny, white flowers with radiating black dotted lines. Agrostemma blooms from mid-spring to mid-summer attracting bees and hummingbirds to the garden.
White Agrostemma is often grown in the cottage gardens with cornflowers and poppies or sprinkled among other favorite flowers. Agrostemma Githago grows best in full sun or partial shade, and moist, but well drained soil is preferable. Agrostemma self-seeds itself providing even more flowers the following year, and it makes a superb cut flower.
PLANT PROFILE
Season: Annual 
Height: 36 Inches 
Bloom Season: Spring/Summer
Environment: Sun/Partial Shade 
Soil Type: Sandy/Moist, well-drained
USDA Zones: All Regions of North America
PLANTING INSTRUCTIONS 
Sow Indoors: Winter (6-8 weeks before last frost) 
Sow Outdoors: Spring/Fall 
Seed Depth: Surface sowing - press seeds slightly into the soil 
Germination Time: 7-14 Days