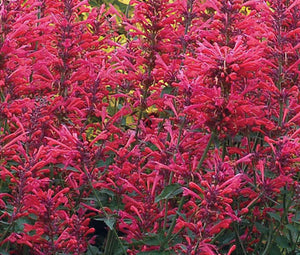 Agastache Heather Queen Non GMO Seeds - Agastache Cana
Agastache Heather Queen Agastache Cana is a herbaceous, moderately long-lived perennial plant with shrub-like appearance. Agastache Heather Queen seeds is easy to germinate, and this particular Agastache produces large, dark-pink flower spikes and features gray-green foliage with small leaves that are dispersed throughout the plant. Agastache grows rapidly and blooms the first year. Its fragrant flowers and foliage with strong mint fragrance attract hummingbirds and butterflies all summer and fall.
Agastache Heather Queen is an outstanding border plant and good subject for mass planting. Agastache Cana seeds can be started indoors before the last frost or directly sown outdoors after the last frost. Agastache Heather Queen adaptes to a range of soils and grows best in well-drained sandy or gravelly substrates.
PLANT PROFILE
Season: Perennial 
Height: 30 Inches 
Bloom Season: Summer/Fall
Environment: Sun/Partial Shade
Soil Type: Dry/Moist well-drained, pH 6.0 - 7.4
USDA Zones: 6-10
PLANTING INSTRUCTIONS
Sow Indoors: Winter (6-8 weeks before last frost) 
Sow Outdoors: Spring 
Seed Depth: 1/16 Inch 
Germination Time: 21-28 Days